Newspaper Christchurch Press Sat & Sun, Jan 5-6, 2001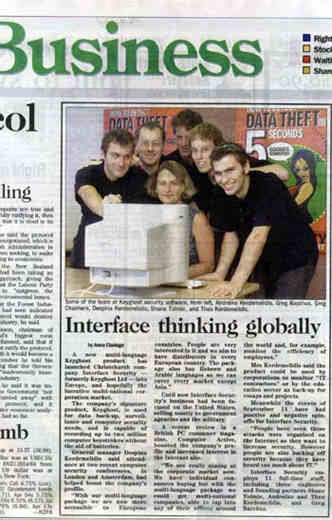 Some of the team at Interface Security, from left, Andreiko Kerdemelidis, Greg Bacchus, Greg Chalmers, Despina Kerdemelidis, Shane Tolmie, and Theo Kerdemelidis.
Interface thinking globally
by Anna Claridge

'A new multi-language Keyghost product has launched Christchurch company Interface Security - formerly Keyghost Ltd - into Europe, and hopefully the lucrative multi-national corporation market.
The company's signature product, Keyghost, is used for data back-up, surveillance and computer security needs, and is capable of recording up to two million computer keystrokes without the aid of batteries.
General manager Despina Kerdemelidis said attendance at two recent computer security conferences, in London and Amsterdam, had helped boost the company's profile.
"With our multi-language package we are now more accessible to European countries. People are very interested in it and we aim to have distributors in every European country. The package also has Hebrew and Arabic languages so we can cover every market except Asia."
Until now Interface Security's business had been focused on the United States, selling mostly to government agencies and the military.
A recent review in a British PC consumer magazine boosted the company's profile and increased interest in the Internet site.
"We are really aiming at the corporate market now. We have individual consumers buying but with the multi language package we could get multi-national companies, able to tap into any of their offices around the world and, for example, monitor the efficiency of employees."
Mrs Kerdemelidis said the product could be used by corporations to monitor 'IT contractors' or by the education sector as back-up for essays and projects.
Meanwhile the events of September 11 have had positive and negative spinoffs for Interface Security.
"People have seen these attacks were organised on the Internet so they want to increase security. However people are also backing off security because they have heard too much about IT."
Interface Security employs 11 full-time staff, including three engineers and founding partners Shane Tolmie, Andreiko and Theo Kerdemelidis, and Greg Bacchus.'

Check out more press coverage >>