GeekVortex Review
3rd December 2000


'It has a very easy installation, a very easy operation, and is extremely innovative as an idea. To sum the KeyGhost in one sentence, "A Masterpiece of Engineering". Nothing more nothing less.' - DataOrb
> Read the independent review
Using KeyGhost in the Real World
The Debtor's Digital Autopsy.

Trustee's answer: Find the "Pixie Dust" – the recorded electronic data found on Computer Hard Disk Drives ("HDD"), PDA and other Digital Devices.
"How many millions of businesses and individuals have e-mail, Word Perfect, Word, Excel, QuickBooks, Quicken, Money, and accounting software applications used to record and report on business and personal financial activities? (So did anyone mention keeping a second set of books or off the books accounting?) It is almost impossible for unscrupulous Debtors or their officers to escape from the trail of e-data left behind in today's digitized business environment."

Read the White Paper by Jack Seward
© 2003. The author retains all ownership rights and interest.
U.S. Department of Justice Letter on Keystroke Monitoring.

Summary: The US Department of Justice recommends that a banner notice giving clear and unequivocal notice to intruders that by signing onto the system, they are expressly consenting to having their keystrokes monitored. The banner should also indicate to authorized users that they may be monitored during the effort to monitor the intruder, and that they may be monitored in the course of routine system maintenance.

You may download the original U.S. Deptartment of Justice letter here >>
Article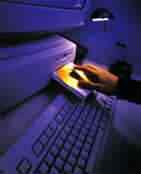 Over $120 billion was lost in the USA due to employee fraud last year. And this figure is growing.
Who is using the KeyGhost™?
> click here to find out <