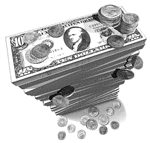 Our Affiliate Program
The Interface Security Affiliate Program is a revenue-sharing program that allows other internet sites to obtain commission for generating online credit card* sales for KeyGhost Ltd.
All you need is a website.
Signing up as an affiliate is totally free!
Join our Affiliate Program and earn money from your web site by commission on every online credit card* sale made by a visitor you send.
We will provide you some HTML code, a link and/or a banner displaying a graphic advertising our products, and for each of your visitors that click on your graphic or link and purchase from this site, you earn money!
All you have to do is to refer people to us!

You can earn a maximum of NZ$200 approx US$100 commission per order, or up to 10% commission of the retail price on all KeyGhost products (computer security hardware keyboard keyloggers).
You continue to earn commission after the date of visit on all security keylogger goods sold for each returning customer, provided that customer has not disabled cookies on their browser.
Why Join our Affiliate Program?

It is a simple way to earn money.


It is free to participate.


You can be up and running in a few minutes.


Real-time reporting lets you know exactly how much you've earned.


Corporate checks are sent directly to you.
To become an Interface Security Affiliate Program member, please follow the simple instructions on our Getting Started page. >>
Remember, it is totally free!
If you need help with adding a banner to your website, we are always here to help!
Need to contact us?
Contact: Theo Kerdemelidis
Phone: +64 3 3793883
Fax: +64 3 3793885
Email:

* Commission is only paid on Online Credit Card transactions generated by a customer referred from the affiliate website. Cookies are used to mark and monitor the customers origin. If cookies have been deleted or disabled, affiliate data will be lost, KeyGhost Ltd accepts no liability for losses that may occur.