GeekVortex Review
3rd December 2000


'It has a very easy installation, a very easy operation, and is extremely innovative as an idea. To sum the KeyGhost in one sentence, "A Masterpiece of Engineering". Nothing more nothing less.' - DataOrb
> Read the independent review
Newspaper Christchurch Press Saturday, 9 May 2001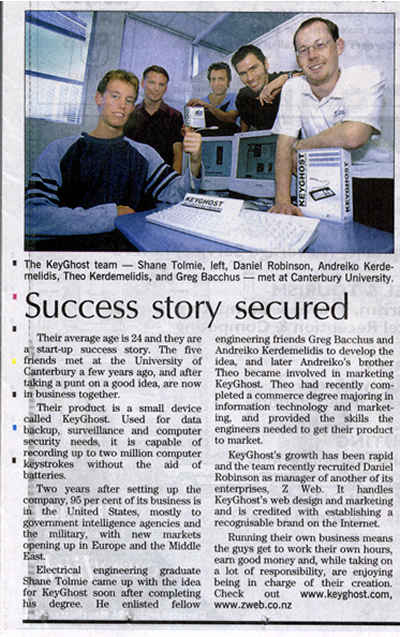 The KeyGhost team - Shane Tolmie, left, Daniel Robinson, Andreiko Kerdemelidis, Theo Kerdemelidis, Greg Bacchus - met at Canterbury University.
Success story secured
by Rachael Drummond

"Their average age is 24 and they are a start-up success story. The five friends met at the University of Canterbury a few years ago, and after taking a punt on a good idea, are now in business together.
Their product is a small device called KeyGhost. Used for data backup, surveillance and computer security needs, it is capable of recording up to 2 million computer keystrokes without the aid of batteries.
Two years after setting up the company, ninety-five percent of its business is done in the United States, mostly to government intelligence agencies and the military, with new markets opening up in Europe and the Middle East.
Electrical engineering graduate Shane Tolmie came up with the idea for KeyGhost soon after completing his degree. He enlisted fellow engineering friends Greg Bacchus and Andreiko Kerdemelidis to develop the idea, and later Andreiko's brother Theo became involved in marketing KeyGhost. Theo had recently completed a commerce degree majoring in information technology and marketing, and provided the skills the engineers needed to get their product to market.
KeyGhost's growth has been rapid and the team recently recruited Daniel Robinson as manager of another of its enterprises, Z Web. It handles KeyGhost's Web design and marketing and is credited with establishing a recognisable brand on the Internet.
Running their own business means the guys get to work their own hours, earn good money and, while taking on a lot of responsibility, are enjoying being in charge of their creation."

Check out more press coverage >>