Newspaper Christchurch Press Saturday, 13 Jan 2001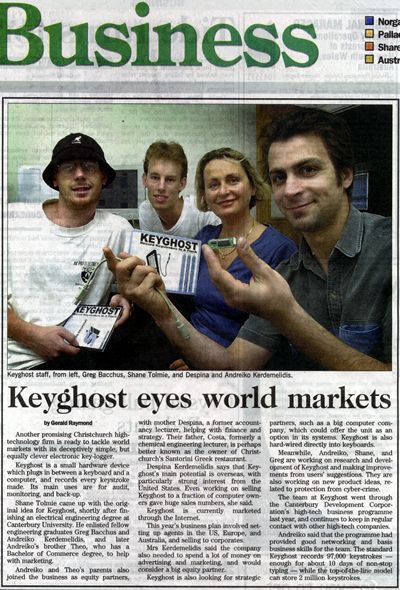 KeyGhost Staff, from left, Greg Bacchus, Shane Tolmie, and Despina and Andreiko Kerdemelidis.

KeyGhost eyes world markets
by Gerald Raymond

"Another promising Christchurch high-technology company is ready to tackle world markets with its deceptively simple, but equally clever electronic key-logger.
Keyghost is a small hardware device which plugs in between a keyboard and a computer, and records every keystroke made. No other installation is necessary.
Shane Tolmie came up with the original idea for Keyghost, shortly after finishing an Electrical Engineering degree at Canterbury University. He enlisted the help of fellow engineering graduates Greg Bacchus and Andreiko Kerdemelidis, and later Andreiko's brother Theo, who has a Bachelor of Commerce, to help with marketing.
Andreiko and Theo's parents also joined the business as equity partners, with mother Despina, a former accountancy lecturer, helping with finance and strategy. Their father, Costa, formerly a lecturer in Chemical Engineering, is perhaps better known as the operator of the Santorini Greek restaurant in Christchurch.
Despina Kerdemelidis says that the Keyghost's main potential was overseas, with particularly strong interest coming from the United States. Even working on selling Keyghost to just a fraction of computer owners provided huge sales numbers, she said. Keyghost is currently marketed through the Internet.
The business plan this year involved setting up agents in the United States, Europe, and Australia and sell to corporate customers. Potential customers were individuals, who tended to use Keyghost as a backup device, corporates, and government agencies.
Mrs Kerdemelidis said Keyghost also needed to spend a lot of money on advertising and marketing, and would consider a big equity partner.
Keyghost is also looking for strategic partners, such as a major computer company which could offer the unit as an option in its systems. Keyghost could also be hard-wired directly into keyboards.
In the meantime, Andreiko, Shane, and Greg will be working hard on research and development of Keyghost and making enhancements from users suggestions. They were also working on new product ideas, related to protection from cyber-crime.
The team at Keyghost went through the Canterbury Development Corporation's high-tech business programme last year, and continue to keep in regular contact with other companies in the programme.
Andreiko said that the programme had provided good networking and basis business skills for the team, and they had been able to hook up with other people establishing businesses who were having similar experiences. Keyghost comes in a variety of models, ranging in price from $US139 to $US349. The basic model records 128,000 keystrokes - enough for about 10 days of non-stop typing - while the top of the line model can store 2 million keystrokes."

Check out more press coverage >>