Newspaper Auckland Herald Tuesday, 7 Nov 2000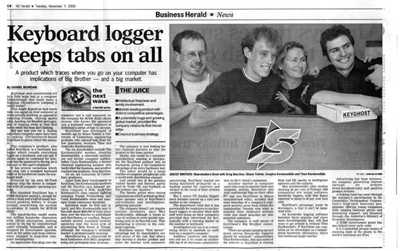 KeyGhost Staff, from left, Greg Bacchus, Shane Tolmie, Despina and Theo Kerdemelidis.

Keyboard logger keeps tabs on all

"A product which traces where you go on your computer has implications of Big Brother - and a big market."
by Daniel Riordan
KeyGhost: pure concentrated evil in a little beige box or a computer breakthrough that could make a fledging Christchurch company a world leader?
That might depend on how much time you spend on your computer at work actually working, as opposed to emailing friends, visiting sports sites, hunting out Swedish pornography or tapping away at that first novel when the boss isn't looking.
But any way you cut it, finding out where computer users have been is taking Christchurch-based KeyGhost to places where the money is.
The company's product, also called KeyGhost, is a hardware keylogger which records everything typed on a keyboard, and can spit it all out again on command for whoever has the password to the log, be it the user or the user's employer.
It has several variations which can plug into a standard keyboard cable or be hardwired inside the keyboard itself.
Powered by its own Hi-Tech internal chip the device is compatible with all PC computer operating systems.
The standard KeyGhost has a 128,000 character memory, enough for about a week and a half of steady keyboard pecking before it wraps around, overwriting the earliest keystrokes. It retails for $US139.
The top-of-the-line model stores two million keystroke characters with 128-bit encryption, making access to its log by unauthorised users virtually impossible, and is designed for Government agencies, such as the police and drug enforcement, engaged in long-term computer investigations.
An application and hardware that plugs into the computer is sold separately by the company for $US49 which allows anyone who knows the password (say a keyboard users' employer) to download a series of logs in seconds.
KeyGhost was developed 18 months ago by Shane Tolmie, a University of Canterbury engineering graduate who enlisted help from fellow graduates, brothers Theo and Andreiko Kerdemelidis.
The six shareholders include The Kerdemelidis mother, Despina Kerdemelidis, a chartered accountant and former computer auditor, father Costa Kerdemelidis, a former chemical engineering lecturer who bankrolled the business, and another engineering graduate, Greg Bacchus.
All six are University of Canterbury graduates.
Apart from their involvement in KeyGhost Andreiko Kerdemelidis runs concert laser lighting company Fusion Productions, and Costa Kerdemelidis owns and manages Greek restaurant Santorini.
KeyGhost made its first sale in April with many units being sold to individuals and distributors or resellers. Buyers include several Auckland security agencies and the local arm of accounting firm Ernst & Young, although the company's ultimate market is predominantly overseas.
Manufacturing is outsourced to local businesses with R&D, programming and packaging done in-house.
The company is now looking for two business partners to take the product to the mass market.
Ideally, one would be a computer manufacturer wanting to incorporate the KeyGhost product into its keyboards, giving it the competitive advantage of an extra hardware tool.
The other would be a large reseller of computer peripherals with a world-wide distribution channel.
Last month two of the partners visited Seattle and Denver, partly paid by Trade NZ, and feedback on the product was "positive."
The Seattle police were among organisations which pricked up their super snooper ears at KeyGhost's surveillance and intelligence gathering potential.
KeyGhost enjoys "first mover" advantage and its shareholders are continuing development on the products to stay ahead of any competition.
Keyghost started out being marketed primarily as a backup system for reporters and writers in the event of their systems crashing.
But a recent US Justice Department decision opened up a vast new market to the company.
The department advised that it was permissible for employers to use keyboard loggers to monitor what their staff were doing on their computers provided they advertised the fact, typically with a warning sticker on the monitor or keyboard.
Investigators can use it as a monitoring device to establish an audit trail on a suspect's computer.
Auditors, receivers and liquidators can use it to create an unalterable log of all electronic communication on their client's computers.
Another market is computer users who want to monitor their own computer activity. Executives who hold confidential files on their office PC can use KeyGhost to detect unauthorised entry, mindful that most breaches of a company's computer security occur from within the organisation. Parents who want to monitor their children's website visits and email launches are also potential customers.
The company is well aware of KeyGhost's Big Brother connotations.
'There are people jumping up and down saying [keystroke loggers] should be outlawed,' acknowledges Theo Kerdemelidis, who says some of the interest in KeyGhost is coming from real life spooks in intelligence agencies and the military.
Mrs Kerdemelidis cites studies showing 20 per cent of Fortune 1000 companies are using software keystroke loggers, with that figure expected to jump to 80 per cent next year.
KeyGhost's advantage, insist its developers, is that it can't be tampered with.
As keystroke logging software becomes more popular and users more knowledgeable they will find ways to get around it, recons Theo Kerdemelidis. If KeyGhost can capitalise on its advantages as a tamper-proof hardware alternative, this can help defeat its software based competitors.
Advertising has been minimal, the company generating majority of interest via its website (www.keyghost.com) and positive independent product reviews.
A helping hand has come through the company's participation in the Canterbury Development Corporation's high-tech business programme, offering young companies wide ranging business advice and mentoring support, and financed through Jim Anderton's Ministry of Economic Development.
A $7000 Government grant has also helped cover early costs.
It is a somewhat prosaic means of ensuring most of the ghosts in the world's machines are Kiwi.
Check out more press coverage >>