Article - National Business Review, October 5, 2001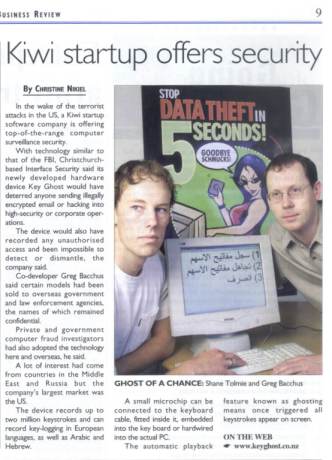 Ghost of a Chance: Shane Tolmie and Greg Bacchus.
Kiwi startup offers security
by Christine Nikiel

"In the wake of the terrorist attacks in the US, a Kiwi startup software company is offering top-of-the-range computer surveillance security.
With technology similar to that of the FBI, Christchurch-based Interface Security said its newly developed hardware device KeyGhost would have deterred anyone sending illegally encrypted email or hacking into high-security or corporate operations.
The device would also have recorded any unauthorised access and been impossible to detect or dismantle, the company said.
Co-developer Greg Bacchus said certain models had been sold to overseas government and law enforcement agencies, the names of which remained confidential.
Private and government computer fraud investigators had also adopted the technology here and overseas, he said.
A lot of interest had come from countries in the Middle East and Russia but the company's largest market was the US.
The device records up to two million keystrokes and can record key-strokes in European languages, as well as Arabic and Hebrew.
A small microchip can be connected to the keyboard cable, or hardwired into the keyboard.
The automatic playback feature known as ghosting means once triggered all keystrokes appear on screen."
Check out more press coverage >>